We are thrilled to announce MyZenTeam's app for Slack, which will give your team a reason to engage and connect.
Enhance your team's relationships, empathy, and culture with MyZenTeam, now available in the Slack app store. Our simple and intuitive app lets you quickly set up automated Slack channels to bring co-workers closer together and get to know each other on a deeper level. Start using it today and experience the benefits for your team.
Slack channels you can automate with the app:
Question a day with random questions spark surprising conversations.

Daily stand-up meeting.

Kudos channel to build a habit of showing gratitute.

Moment of the week to share your favorite photo with a team.

Birthday reminders.

Work anniversaries reminders.
Let's explore some of the use cases.
Never forget an important date!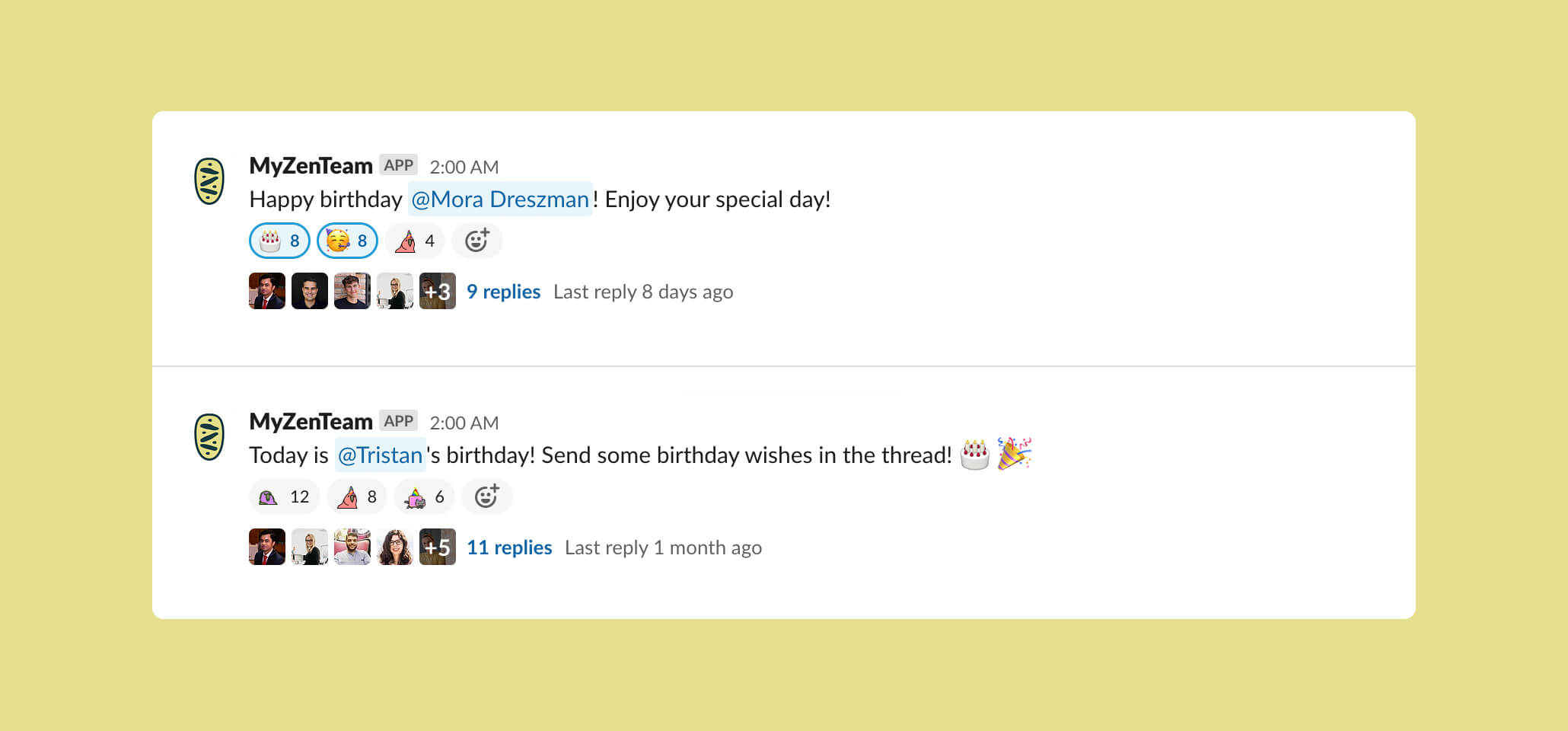 You no longer need someone to remind your team about colleagues' birthdays. Let the bot do the job!
It will automatically notify everyone when it's a team member's birthday or work anniversary, making it easy to recognize and celebrate special days. 
How can you use this feature to become a better manager?
When you see the automatic reminder, take time to write a wish to your team members.
Manager recognition goes a long way. A recent study found that employees who reported their managers were great at recognizing them were more than 40% more engaged than those with managers who were not (find the study here).
Automatic water cooler conversations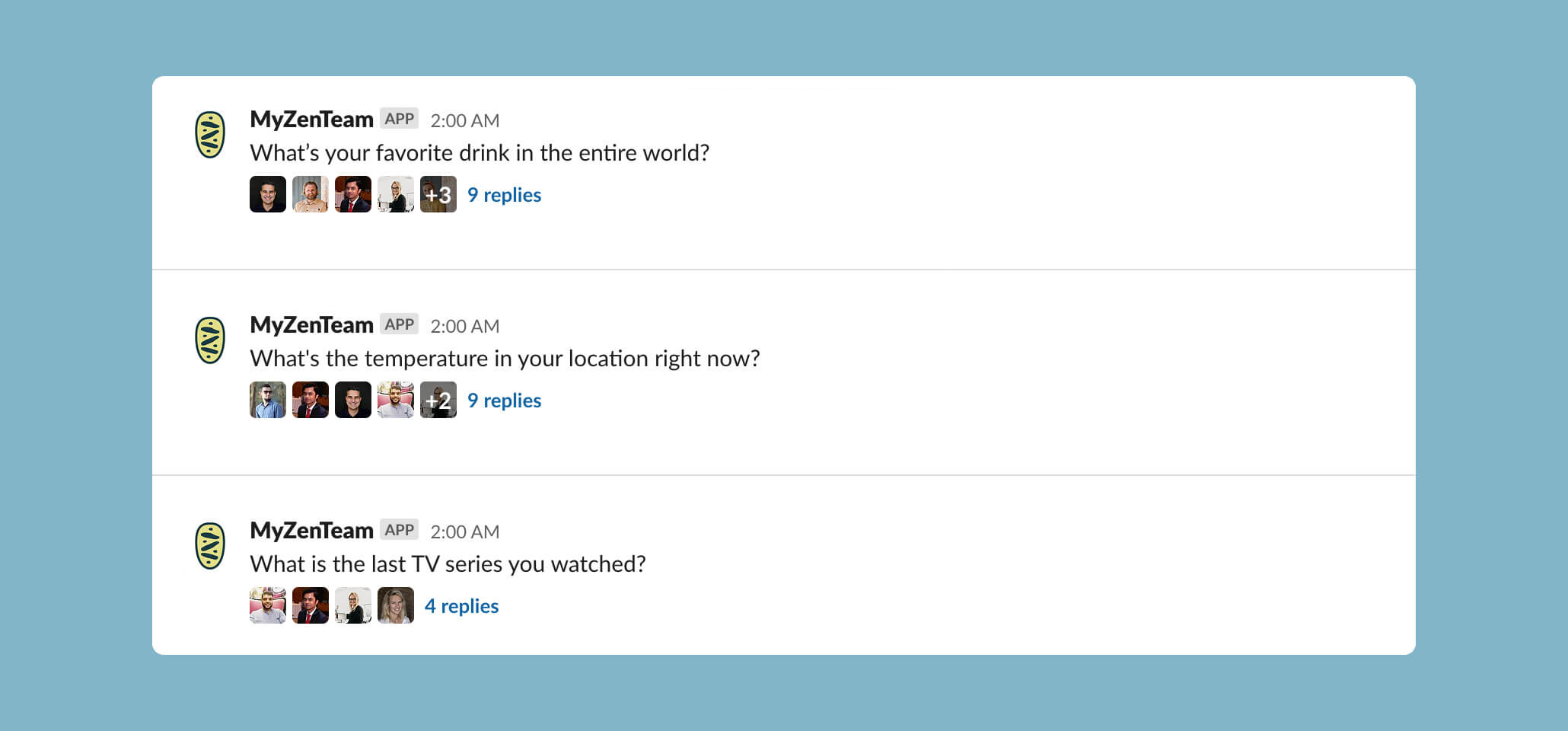 Remember conversations about breakfast, favorite movies, and your funniest childhood memory that you would have while drinking coffee with colleagues?  It was a fun way to connect and cool distractions in the office.
There were some issues with it. Management was rarely in the conversations, and you might never meet colleagues from different floors and always talked with the same group of people.
When the world went to a remote setting, I heard lots of stories about how managers wanted to bring the same concept online. They would do an online meeting where people would share their favorite songs.What's the point of making the meeting about it? I would ask people to write links to their favorite songs and would create a playlist for the team.
We are introducing a bot that helps to spark interesting conversations online and asynchronously. We have put together an extensive gallery of questions that will be posted once a day to your selected channel.
Every day you will get a different question, like: 
What does this emoji mean to you? (you might be surprised)

How far do you live from the place where you grew up?

What time do you normally eat your "breakfast"? And what is it? 

What's your go-to karaoke song? 

What's the view like outside your window at the moment? Share a photo. 
It's an easy way to meet everyone on the team, see how similar and different we are, and set up the foundation for successful work together. It's much easier to contact someone you know a bit about, right?
All these conversations can be done on your own timeline, so it doesn't matter if your team is distributed or doesn't have much time for small talk. They can read answers and reply anytime they want.
How can you use the feature to become a better manager? 
It would be great if you reply to the questions once in a while, but it's even more important to notice what questions ignite discussions and what people have in common.
You can use this information to organize online/offline team events or create Slack channels based on common interests. For example, if a big part of your team has a go-to karaoke song, you can incorporate that in your next team event.
Alternative to daily stand-up meetings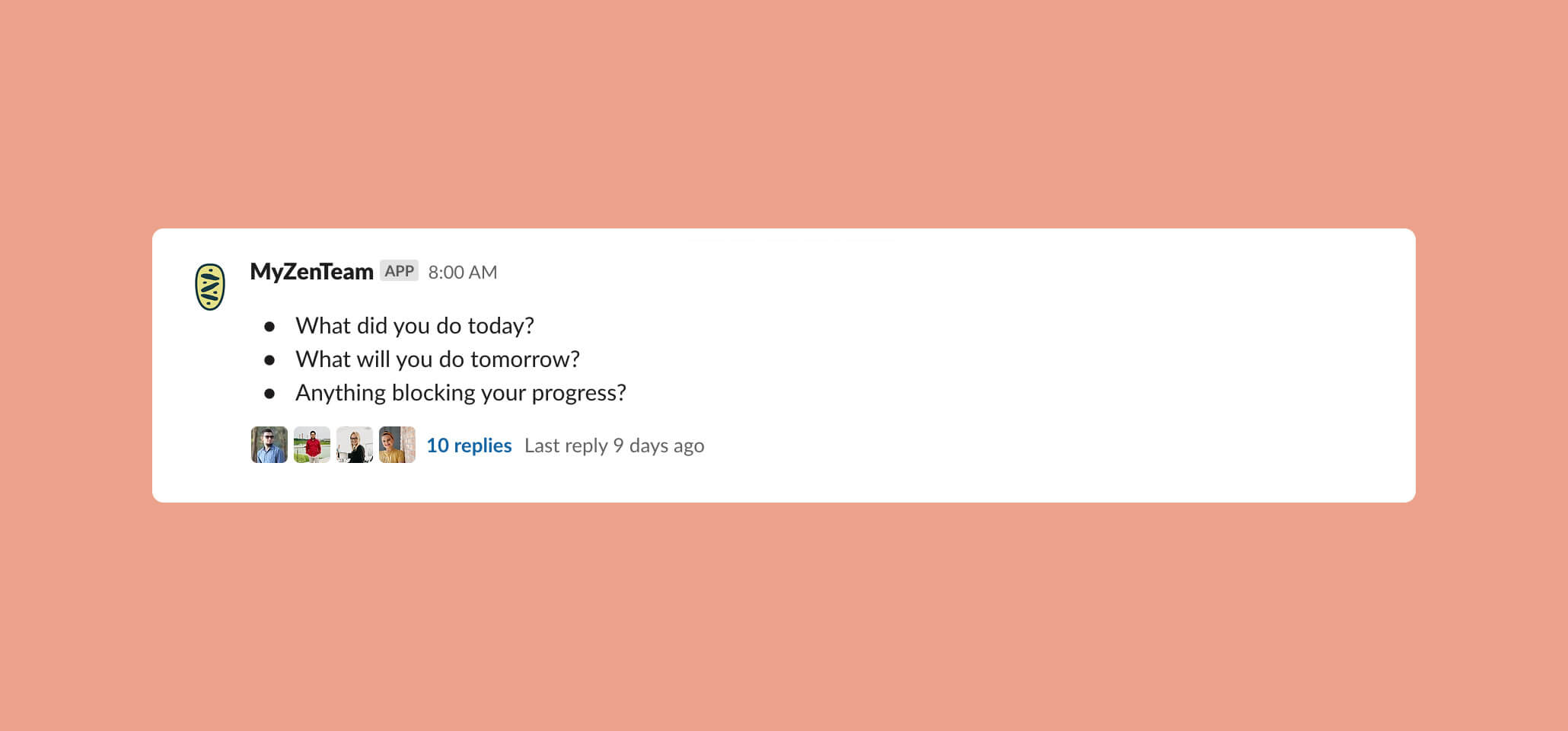 What's next? Soon, we will launch more bots for our Slack channel, such as daily stand-up meetings. You will be able to set up the frequency and time when your team will get a reminder to share what they have done, what they plan to do, and if they need any help.
To get started, sign up to MyZenTeam, head to Integrations section and connect your Slack workspace.
#1. Inform people about the trip as early as possible
Anticipation is a source of free happiness. A valuable emotion.
Research shows that people can reap substantial enjoyment from anticipating an upcoming event even if the event itself is not entirely enjoyable. People who devote time to anticipating enjoyable experiences report being happier in general. 
From the moment you will reveal the destination and the date of your workation your team will start planning. Some of them might stay longer or travel around. Perhaps their family and friends may come along too. Others will have to make arrangements, such as childcare or pet hotels, for their time away from home.
Another great benefit of planning workations is that you can mention them in your job ads. This might increase the chances of people applying because they are eager to join a unique company culture and meet their new hybrid or remote team in Panama City or Bali. 
At The Remote Company and MailerLite, our top rule is to provide all the necessary information about the trip at least three months before and invite all team members who have worked for more than three months at the company.
#2. Involve as many people as possible to create a program
With over 8 years of experience, we are very particular when it comes to planning our workation.
90% of what makes a gathering successful is put in place beforehand. (Priya Parker)
#1. Workation is a business trip from Monday through Friday
Workation is the best way for us to meet and work together. We take it very seriously and expect everyone to attend it (the last two years were exceptions. If people feel unsafe, they can stay at home)
People can buy flight tickets for any dates that include the workation. Team members usually plan their vacation with family and friends before or after the workation.
#2. Mix work-fun-work
On Monday evening, we welcome everyone with drinks. 
Tuesday is focused on work - presentations, discussions and workshops.
Wednesday is a Creative Day full of fun activities. 
Thursday is usually for planning sessions and time to reflect before the goodbye party. 
After breakfast on Friday, we all say goodbye until the next time.
#3. Food brings people together
Our team takes food seriously. First, we have breakfast and lunch in the hotel to save time.
However, when it comes to dinner… that's a different story. We plan dinners with 6-8 random people every night, allowing everyone to connect with people they might not work directly with. The conversations and topics vary a lot, and it's a great way to get to know everyone.
#4. IKEA effect
Finally, we ask everyone to contribute to the workation. This could mean organizing workshops, selecting restaurants for dinner, or planning a goodbye party; the more people are involved, the more engaged they are. We call this the IKEA effect.
#3. The destination should be a place that makes people excited
And also accessible.
In 2022, we planned a MailerLite & Vercom workation for 140+ people from 30+ countries. I started the process by googling 'European airports with the most connections'. And this is how we chose Istanbul. 
Another important aspect is the accommodation. It can make or break the trip. 
Fast internet, on-site conference facilities, easy access to the airport (max one-hour drive) and walkability to restaurants are non-negotiable for us.
Previously, I asked remote teams to share their favorite places and collected a list of 20 destinations & approved hotels with activities nearby.

Planning your next workation? Join our email list and gain access to our exclusive list of 20 destinations & approved hotels to make your planning easier.